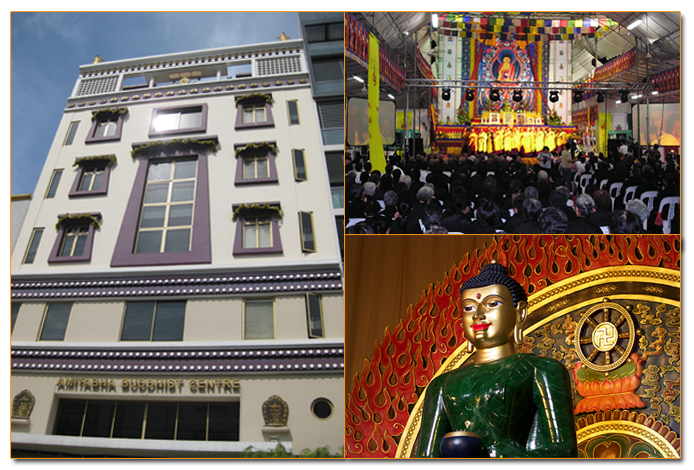 Through our development over 25 years and more, Amitabha Buddhist Centre has grown from our casual beginnings as an informal study group into an established organisation that represents Buddhist values and traditions, and contributes a meaningful presence to the multi-cultural landscape of our local community.
Since May 2007, Amitabha Buddhist Centre has occupied our own seven-storey property at 44, Lorong 25A, Geylang. The building was constructed over a decade and came about entirely from the guidance of our gurus, and the ingenuity, efforts, sacrifices and contributions of our members and numerous kind benefactors. Its distinctive architecture combines the iconic style of traditional Tibetan monasteries with contemporary urban design. It affords the space needed to accommodate our membership of 1,000 in our on-going programme of classes and prayer sessions.
When the SARS epidemic broke out in Singapore in 2003, we organised a series of powerful pujas for the benefit of everyone in the country. The "Grand Fire Puja to Control the Spread of SARS" was held over a fortnight in May following our annual Vesak Celebration. Some 1,200 people attended the opening ceremony. The prayers were performed by a total of 28 monks flown in from monasteries in India and Nepal, and were dedicated for the victims of SARS as well as the eradication of the deadly disease.
In January 2012, we hosted an exhibition of the world-famous Jade Buddha for Universal Peace at the plaza of Ngee Ann City in Orchard Road. It was the largest event we had organised, with the help of more than 200 volunteers. The two-week exhibition attracted thousands of visitors who came to admire the glorious and inspiring 3-metre tall statue of Shakyamuni Buddha, carved from a single block of rare Canadian Polar jade, and a symbol of peace for the world.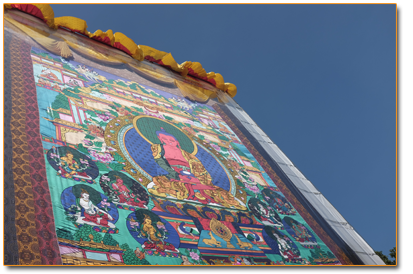 In conjunction with celebrating our 25th anniversary in 2014, we unveiled for the first time our giant 50-foot high thangka of "Amitabha Buddha In His Pure Land" at our Vesak Celebration from 10 to 13 May. Many thousands of visitors and passers-by were able to view the magnificent display and to receive very positive imprints from the sight of it. The hand-sewn tapestry contributes to Lama Zopa Rinpoche's vast vision for FPMT centres to produce and display enormous thangkas that would benefit many sentient beings just by seeing these holy objects.